June 8, 2016
Breaking Down Brock Lesnar vs Mark Hunt
Brock Lesnar, folks. Brock. Lesnar. The audacity of this man. First, how dare he abandon the WWE, after he had been pushed as the next face-of-the-company.
Him and that damn, dirty  Goldberg, both surely traitors to the wrasslin' business. Secondly, who does Brock Lesnar think he is, trying to just walk onto an NFL roster? Check the record, bud, playing football in high school doesn't equate to an instant NFL job. Then to think he can just strut his giant ass into a mixed martial arts ring in Japan? Yeah, Lesnar has some amateur wrestling in his repertoire, but surely he can't actually apply that successfully.
Way to go tough guy, you beat up Min-Soo Kim, that bum had a 2-6 record at the time. If there's one thing we know for sure, it's that you absolutely won't succeed in the UFC. Oh wait.
Apologies for the facetiousness there for a moment. It's just that so many in the MMA community love throwing Lesnar under the bus. Sure, the guy gets, a, uh…little carried away at times… But you're probably lying to yourself if you say you haven't found any of his fights to be must-see entertainment. Win or lose, this man is pure, compelling spectacle.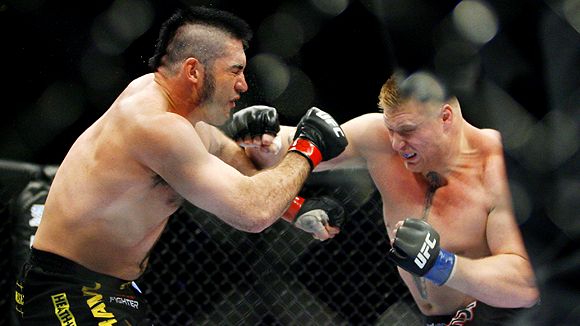 So when this new UFC 200 trailer dropped during UFC 199, jaws (well, those of us who weren't up-to-date on the interwebz) had our jaws hit the floor. Obviously most of us know the story of how Lesnar ended up departing the UFC. Few people thought he'd ever return. There was no opponent announced, just Lesnar himself. A lot of people likely expected an easy matchup, finely chosen for the former UFC heavyweight champ to maul in the Octagon for a one-time payoff. An announcement was coming on Monday, we were told. And so we waited.
On Monday, Lesnar joined ESPN and explained the situation that led to his return to the cage. His opponent was now clear: Mark "The Super Samoan" Hunt. Mark Hunt, the man of the walk-off KO. The man with a legendary chin. The man that is perhaps the hardest hitter in UFC MMA history. And Brock Lesnar was coming back from a 4-year hiatus, to return against Hunt in the co-main event of UFC 200. What. A. Fight.
It should come as no surprise that Hunt, like many who have come before him, was quick to attack Lesnar for being a pretender. That's the attitude that a lot of fighters (and fans) have towards Lesnar. Now, Hunt may very well be, "playing the game" so to speak. Just saying what he needs to, to hype up the fight. We're all hyped anyway, but hey, you gotta have some promo clips to throw around out there.
Or perhaps this is what Hunt actually believes, that Lesnar is just an oversized phoney, using his status to go back-and-forth between whatever he desires (he wouldn't be the first to imply this).
Here's the thing, though. Brock Lesnar is a real fighter. Is he perfect? Absolutely not, but who in the heavyweight division is? Everyone loses in an ugly manner at heavyweight. Such is the case when huge dudes are throwing down. Both guys have very clearcut paths to victory here.
Hunt will clearly be looking to replicate the success of Cain Velasquez and Alistair Overeem had on the feet against Lesnar. While Lesnar's struggles with strikes have been noted in the past, Hunt is not exactly a grappling wizard when fights hit the mat. Current UFC heavyweight champion Stipe Miocic managed to take Hunt down, beating him up badly there, as Jack Slack breaks down nicely over at Vice's FightLand. Miocic, for his credit, set up his takedowns with strikes a bit more fluidly than Lesnar likely will. But does that really matter?
Let's look at the Lesnar vs Velasquez fight again for a moment. Velasquez is without-a-doubt one of the premiere heavyweight wrestlers in the UFC. Go back and look at the GIF of Lesnar's silly tumble across the cage during the finish of their fight. Velasquez shucks off a takedown attempt easily from the rocked Lesnar before storming his face with leather.
But fans are quick to forget that Lesnar's power allowed him to hit a classic takedown on Velasquez. Not an easy feat. While the numbers tell us that Hunt defends 69% of takedowns, he hasn't exactly fought a ton of grapplers recently (particularly grapplers with the amazing credentials of Lesnar).
As for a prediction? Well, we're going to play the underdog here, and say that BRRRROOOCKKKK LESSSSNAAAAR gets Hunt to the canvas, and either lays down the monkey-fists or works for a submission before grabbing the mic and cutting a bitchin' promo on the crowd.
Photo credits: http://www.businessinsider.com/wwe-brock-lesnar-facts-wrestling-2015-4
http://www.urdirt.com/2008/10/22/e60-bring-the-pain-brock-lesnar-video/