August 4, 2016
Forgotten Champions: Rich 'Ace' Franklin
Former Middleweight Champion Rich Franklin was one of those most respected and well-liked fighters to ever step into the octagon.
Personally, he was my first favourite fighter. I found myself watching a classic the other day, that being Franklin's loss to Anderson Silva for the middleweight title. A clinch and many, many knees to the body later, hope seemed to be lost for Rich, but he later fought the Spider again. As you can see below, his face did not fair much better the second time around.
These days, you're more likely to hear names like GSP, Anderson Silva and even greats such as Kenny Florian and Urijah Faber before hearing the name Rich Franklin. However, he was one of the most popular (commercially and in the sport) of his time.
Allow me to share reasons why I was (am) such a fan, along with some of his best fights along the way…
The Nickname
From the onset, one the reasons Franklin appealed to me was his nickname "Ace" that being a reference to Jim Carrey's Ace Ventura which I have seen exactly 6, 000 times in my youth.
Of course, there are Sherdog forums and slideshows to back me up on this.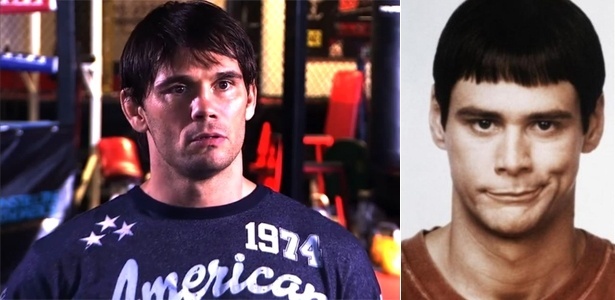 His Training
Back in the day before the likes of 'Road to the Octagon' and 'Embedded' there was 'UFC All Access'. The show ran for 14 episodes over two years and eight months and everyone featured is a legend.
GSP, Liddell, Tito, Randy, Rampage, Lesnar, Anderson and more. But the very first fighter they featured was none other than Lloyd Christmas-er, Rich Franklin.
Besides Rachelle Leah showing off her remarkable looks in the intro, what intrigued me the most about Rich was his insane workout routine. Possibly dated or less vigorous by today's standards (I have no idea) he was still one of the first people to influence me in a fitness sense, and the first I saw doing sprint intervals.
Not only that, he introduced myself and what I imagine were countless other young men/women to cheat days, high-intensity training and a level of training that allows for little to no rest time in between sets.
As I write this, I can't help but think of how shredded 19-year-old me was thanks to him…damn you father time!
Therefore, big shout out to Rich for inspiring me and likely a bunch of others to get in better.
His Fights
Undefeated through his 15 fights, Ace traveled to Japan to fight Lyoto Machida as a part of something called Inoki Bom-Ba-Ye 2003.
Machida won via TKO in the second round to hand Franklin his first ever loss, but at least he was still undefeated in the UFC.
"I've trained professional football players, professional baseball players and professional wrestlers…nobody can hang with Rich Franklin." – Mike Ferguson
It would remain that way for another 34 months before the aforementioned "run in" with Anderson 'The Spider' Silva. That one really hurt to lose the Middleweight title (which he would never regain), after being virtually untouchable for the better part of seven years.
The Cincinnati native would bounce back with back-to-back wins versus Jason MacDonald and Yushin Okami before stepping back into the octagon against Anderson almost exactly one year after the first go-round.
If you watched above then you certainly know this fight lasted longer but with virtually the same result. It would be much of the same after that, TKO wins followed by a loss, decision win and then TKO loss.
But at UFC 115 we were treated to something special, a very memorable fight against Chuck Liddell:
If you remember or just watched, that first-round KO by Franklin won him Knockout of the Night honours.
Fast forward and unfortunately it was more of the same for the then 35-year-old. After an eight month absence he returned in February 2011 at UFC 126 losing a decision to Forrest Griffin. After another extended absence (this time 16 months), Franklin won a hard-fought five-round-decision against legendary Wanderlei Silva at UFC 147, earning him Fight of the Night.
Franklin's final fight came in November of 2012 returning as a middleweight all the way in China against Cung Le. Aside from the significance of the event being in China, it was also on Fuel TV, whom had a new agreement with the UFC.
Unfortunately for Rich, it was a quick, first-round KO at the hands of Le.
Let's leave you with that; what should have been Franklin's last fight, an epic five-round battle between two legendary warriors.
Thanks Rich!