June 4, 2016
Holloway on the Cusp of Greatness
It's well known among fans that there isn't exactly a real formula a fighter can follow to obtain a title shot.
Injuries, past history, scheduling conflicts. There always seems to be something. Let's look at some recent title challengers, just to demonstrate how random the process can seem:
Four fights (Miesha Tate)
One fight (Carlos Condit)
Eight fights (Donald Cerrone)
Five fights (Conor McGregor)
Three fights (Valerie Letourneau)
Three fights (Holly Holm)
Now, obviously "Cowboy" Cerrone is a bit of an exception to the rule here, seeing as the guy is one of the best in the business at stepping into the cage frequently. Not too often are guys (or gals) coming into title fights on seriously long winning streaks, the last with such an impressive run being Jon Fitch (correct us if we're wrong on this one) in his attempt to dethrone Georges St-Pierre.
This weekend at UFC 199, Max Holloway will be looking to cement his status as the next, next challenger at Conor McGregor's UFC Featherweight title. For a guy with the nickname "Blessed", he sure is having to earn his shot at gold. The 4th ranked Holloway squares off against Ricardo "The Bully" Lamas (himself the 5th ranked featherweight). Lamas, a former title challenger himself, is certainly no slouch; however, Holloway is held in such high esteem that he's more than a 3:1 favourite across the board in the betting world.
Unfortunately for Holloway, even an impressive win over Lamas likely isn't going to net him a title shot. There's this fight you've maybe heard about – apparently booked by McGregor, no less – between Jose Aldo and Frankie Edgar for an interim title. While those two are scheduled to rematch for the (sigh) interim title, McGregor continues his pursuit of Nate Diaz, with that fight now being teased as potentially off. All of the shenanigans surrounding the UFC Featherweight title are likely to force Holloway to either sit and wait, or continue to fight (and win) until he finally gets his chance.
Whichever way it shakes out for Holloway, nine fights or 10, he'll be making history when he gets his opportunity, surpassing the previous record held by the aforementioned "Cowboy" and Fitch. As it stands, the current run of 8-fights is tied (with Cerrone and Gray Maynard) as the 8th longest winning streak in UFC history.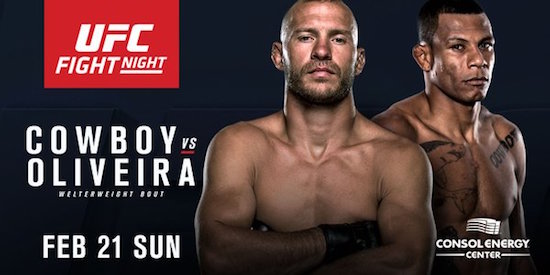 Photo credits: http://fightland.vice.com/blog/breaking-news-cowboy-cerrone-gets-his-third-shot-at-benson-henderson
http:// themmareport.com/2016/02/ufc-fight-night-83-cerrone-vs-oliveira-fight-card-lineup-finalized-krause-vs-campbell-kicks-off-six-fight-main-card/
feature: https:// www.google.ca/url?sa=i&rct=j&q=&esrc=s&source=images&cd=&ved=0ahUKEwic-tWp947NAhULJ1IKHVzvALQQjxwIAw&url=http%3A%2F%2Fwww.foxsports.com%2Fufc%2Fstory%2Fmax-holloway-downs-cole-miller-draws-cub-swanson-next-021515&psig=AFQjCNGCZW186qGkEIcc35lY3HfzDYdLOw&ust=1465148941884044