September 6, 2016
MacDonald to Bellator, Everybody Wins
A big name has jumped ship to Bellator, none other than Canadian favourite Rory MacDonald.
Ahead of the UFC's first-ever show in Ottawa (the one in that weird arena under the bleachers of a football stadium), the wonderful capital of our fine nation of Canada, some people were expecting Rory MacDonald to quell the hype of Stephen "Wonderboy" Thompson, and earn another shot at the UFC gold that had so narrowly eluded him in the past.
MacDonald came into the bout with it as the last fight on his UFC contract at the time, and a win would have put him in a great bargaining position. The world is a harsh place, however, and "Wonderboy" smashed up MacDonald's face in much the same way that "Ruthless" Robbie Lawler had nearly a year beforehand.
After taking the "L" from Thompson, Rory "12 Nicknames" MacDonald became the biggest free agent in the MMA world. The saga – if you can call it that – wrapped up when the 27-year-old Canadian put pen to paper and signed on the dotted line with Viacom-backed Bellator, joining the likes of former UFC veterans Josh Thompson, Benson Henderson and Matt Mitrione as high-profile names that have jumped over to North America's second biggest MMA promotion.
And here's the thing: this move benefits all parties involved.
Benefits for Rory
The first way to look at any free agency signing, in any sport, is to look at the cash. Unfortunately, there's no details out there regarding how much MacDonald is going to be receiving for his Bellator fights. However, "The Red King" is on record as having made $59,000 to show, with a $10,000 payout from the Reebok sponsorship.
It seems safe to say that MacDonald will be making more than that, as he highlights that free agency was the smart move for him, and that, "Everybody is in different stages of their career, so build their brand, make a name for yourself, have good fights, put good performances on, then maybe test [free agency] out" (via MMAFighting). Reading between the lines, it seems obvious that there's more money on the table, be it from Bellator or more availability for sponsorships outside of the confines of Reebok.
Entering into Bellator also instantly makes MacDonald a big fish in a small pond, and gives him a lot more pull with the organization, as he highlights the mutual desire to expand both his and Bellator's brand north of the border to Canada. The added benefit of having stronger pull with the organization is that MacDonald will now be given plenty of time to heal up his nose, without feeling the pressure from Dana White or from others rapidly passing him in the ever-changing UFC welterweight landscape.
When he's ready, there will be plenty of fresh, winnable match-ups for him in Bellator. If things go well, and he dominates as he believes he will, well then he can come back to the UFC having created a more hardcore fanbase for himself (see Nick Diaz's run in Strikeforce for how this can be done).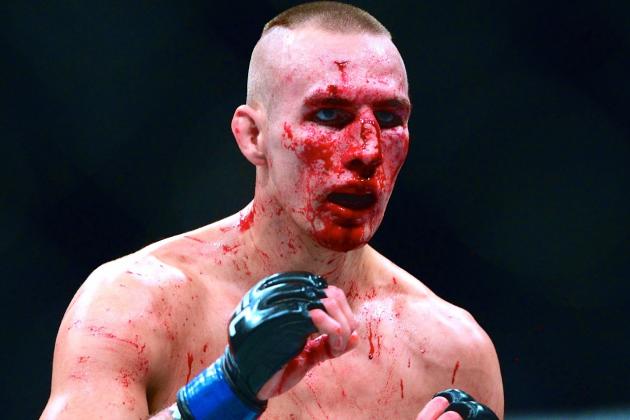 Benefits for Bellator
For Bellator, one of the biggest problems facing the organization is legitimacy. After all, this is the organization that put out this promo and were, uhh, sort of serious? It's definitely alright to embrace the gimmicky aspect of MMA, because there's always going to be a portion of the fanbase who tunes in for the bizarre. And there's nothing wrong with that.
However, as someone who appreciates the stranger aspects of MMA, it's still extremely important to have an air of legitimacy about everything, lest your MMA organization be seen more akin to a professional wrestling business. With MacDonald, there is no doubting his legitimacy. While not the most popular fighter in the UFC, MacDonald is surely more of a draw than former lightweight champion (and decision specialist) Benson Henderson, for example. MacDonald, more than any other ex-UFC Bellator signee screams "MUST SEE TV". And hey, if he waltzes in and beats everyone, Bellator now has a champion that only lost in the UFC because his nose was busted, bro! Oh and he has a win over the current UFC welterweight champion, plus the #2 contender.
Benefits for UFC
Maybe you've heard about the issues the UFC have recently had with an antitrust lawsuit. Maybe you haven't. It's not the most intriguing story when you're really just here for the face-punching. Anyway, the gist is that some former fighters have some gripes with the UFC, and part of the issue they've raised is that the UFC has a monopoly on the sport. You know what's a good way of disputing that? Having several big(ish) names sign with your most direct competition. Even if Bellator never even comes close to truly competing with the UFC, free agency signings, particularly those with as big of a name like MacDonald, certainly create the idea of competition.
By the time next summer rolls around and MacDonald is ready to enter the cage for Bellator, the UFC will also see whatever outcome as a win/win, too. Should MacDonald go in there and beat everyone put in front of him, the UFC welterweight division looks even better by comparison. If he loses, well clearly he's had one too many injuries and is passed his prime. Either situation works for the UFC's best interests. Best part for the UFC? If MacDonald makes a bigger name for himself, he can always come back still in (or near) his athletic prime, garnering a great deal of interest.
In the end, when MMA free agents have a place to go, everybody wins! Hooray!