November 28, 2016
McGregor Stripped of FW Belt, Proves Everyone Right.
Conor McGregor has finally been stripped of his Featherweight Championship.
The news comes right around Fight Night Melbourne, which dragged itself along with mediocrity and was immediately overshadowed by the Conor-related news. This comes to no real surprise to anyone, despite Dana White saying in late August that Conor would not be stripped, but had to defend the belt or give it up.
No matter if the official story is a relinquishing or a stripping of the belt, the outcome is the same, and no one is really fooled by the faux-intent anyhow.
The Obvious Reasons
It's pretty evident that if this situation were, let's say a political party's actions, they would be lambasted to a much greater extent. However, it still hurts the UFC/Dana White's credibility (in my and other's opinion) to continue the ruse for as long as they did, all in the name of business.
One of the most obvious reasons this happened was because of UFC 206. Daniel Cormier was forced to pull out of the main event, leaving Max Holloway vs. Anthony Pettis as the main event. With this card having so much hype, you may think the decision to make Holloway/Pettis a title fight was to keep it exciting for the fans, that could be true of course if it wasn't a smaller piece of the puzzle that all fits perfectly together, revealing the bigger picture…and that picture stinks horribly (pretend it's a Scratch and Sniff).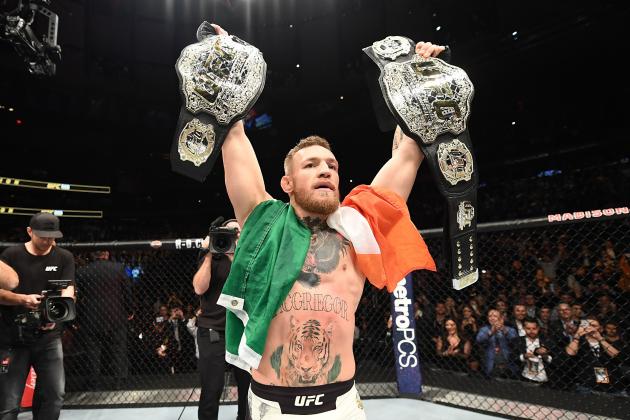 In Dana White's defense, he has mentioned Conor cannot hold two belts simultaneously, but that begs the question: Why keep up this charade and let him have two belts whatsoever? The answer is simple: money.
We all knew it was all about money, but when some one pretends that it's not about that, and let's something like this happen only to immediately scrap the idea once the inconvenience of a cancelled Light-Heavyweight title fight pops up, it certainly cheapens everything and makes one question any future narrative the UFC pushes.
Another obvious reason was that everyone and their mother speculated that McGregor can't make the cut to 145 lbs. after the IV ban. He looked like a different person at 145 pound weigh-ins, like he just escaped from a game of Jumanji.
Aldo Says He Knew It
If Jose Aldo says he knew this would happen then count me in too. Before reading Aldo's thoughts I figured it would be inevitable that he would have to defend the FW title. For now, Aldo plans to defend his belt, then pursue a McGregor rematch.
The vacated belt has put Aldo in a unique situation. He has been given the authentic Featherweight Title, while Holloway/Pettis will fight for the Interim Title. Why is that stupid? Because the only reason this is happening is to try to build hype for their UFC 206 card. The word 'title', whether having 'interim' in front of it or not, assumedly is a bigger draw for those who don't know the whole story, whilst it screams of illegitimacy and blatant desperation to those that do.
"It was a fact that this was going to happen. We knew (McGregor) was going to relinquish the belt – obviously, either mine or the lightweight one." – Jose Aldo
I'm not alone in these thoughts (thank god), Andrew Brennan of Forbes agrees that this delegation of an interim title is due to over-reliance on Conor:
"The UFC made the decision out of necessity for a new main event at UFC 206 due to the injury sustained by Daniel Cormier. Max Holloway vs. Anthony Pettis fighting for the interim featherweight title is a fight that will attract people," he says.
On his show The MMA Hour, Ariel Helwani agreed also, stating: "The problem is the why and the how. The why is a big issue. If Daniel Cormier did not get injured, Monday morning we're sitting here talking about Conor McGregor as the featherweight champion. Daniel Cormier's injury led to Conor McGregor getting stripped. That alone just tells you all you need to know about this scenario. That alone tells you that this doesn't make sense."
Ariel is spot on with this and he wasn't done there, adding: "They botched it. They botched it epically. They botched it because if you're going to go ahead and strip Conor, then Holloway – Pettis needs to be for the real belt. Holloway – Pettis needs to be for the real belt, and you say to Jose Aldo 'you're getting the first crack at the champion of this interim title…"
Read the full excerpt here on NewsTalk.com. It's great to hear this from Ariel, I liken it to screaming at the News for spreading nonsense, and then someone finally comes on CNN and tells them they are bullshit (we're supposed to call things 'fake news' now right?).
Helwani goes on to explain that he thinks McGregor isn't happy about this, and is showing his frustration through his silence. Can we believe McGregor, though? We want to, I want to, if he truly intended on defending both belts that is amazing. At this point however, all signs are pointing to the fact that this was never the intention.
Conor and Dana alike are guilty of saying whatever it takes to ramp up the hype, and now it is seemingly biting them in the ass after being cornered by Father Time into making this decision.
What's Next for McGregor?
Watch for Conor vs. Diaz III, it's going to happen, er- it was always going to happen but now we know it will happen sooner rather than later, with the Irishman fighting strictly at lightweight.
Who knows if it will be after a couple title defenses or if it will be the immediate money grab. History says the latter. At the moment, the rankings dictate a McGregor/Khabib title showdown, with Diaz warming up with, well any number of fighters. Barboza, Alvarez or a second fight with either Johnson or Dos Anjos would suffice in my books. Although I think Dos Anjos/Diaz II would not be wise for the UFC if they hope to have Nate fight for that LW belt.
After two or three title defenses, I see Conor crowning himself king of another weight- classand moving up to 170 to try and conquer the welterweight division.
Fortunately for The Notorious One, the sky is still the limit, however the credibility of the UFC PR/hype machine seems to be plummeting lower than Jay-Z's.