April 22, 2016
Nate Diaz Post-UFC 196: What Have We Learned?
What Have We Learned?
It is no secret that the Diaz brothers have some of, and arguably, the best endurance and cardio in MMA. Their penchants for off-season triathlons as well as ridiculously high-paced fights have been well documented. Regardless of his innumerable skills and accolades, many wondered how Nate Diaz would end up faring against Conor Mcgregor, on just eleven days notice. Although, it was Mcgregor's cardio that failed him, it was Diaz's strong showing that cemented his reputation as a fighter in perennial shape.
Much was made of Nate's comments, leading up to the bout, in which he claimed he was training for a triathlon when he got the call from UFC brass. It seemed to nullify the obvious advantages Conor Mcgregor had coming into the fight, namely: a full training camp.
However, two days after his emphatic win, Nate confessed his comments were untrue. In the caption of an Instagram video he wrote "I wasn't trainjng[sic] for a triathalon[sic] before this fight I was on a yacht in [C]abo gettin my chillax on wit my dudes". The video (attached below) shows Nate taking shots of alcohol with a group of friends on a boat.
With this newfound revelation, several different conclusions can be drawn from the main event of UFC 196. One could plausibly say that Nate Diaz was simply able to get into tremendous shape on just eleven days notice. Conversely, one could argue that Conor Mcgregor was, as he put it in post-fight interviews, "inefficient with [his] movements". One could also claim that Nate Diaz's "start slow" strategy was the reason his cardio/endurance wasn't tested rigorously.
What is clearly lacking in this conversation is the skill differential. Clearly, Diaz had/has the better grappling of the two and his boxing and striking were certainly more effective on March 5th. MMA acumen aside, it seemed like a "fresh" Nate Diaz could have forgone some of his technical precision and still earned the "W" over an exhausted Mcgregor. While skill undoubtedly played a critical role in the bout, one is forced to assume (from body-language and post-fight interviews) that cardio and endurance were the deciding factors. Which brings us back to reinterpreting the fight based on Nate's comments on his lack of physical preparation before the fight.
As with any solution: the answer lies somewhere between polar opposites. Conor certainly gassed out, due to any number of reasons. It is possible that he neglected to train his cardio in an attempt to keep his weight near one hundred and seventy pounds. It is also possible that he misjudged the punch Diaz could take and expended too much energy. His prediction, of a first round knockout, could have exacerbated this energy expenditure; perhaps he felt the need to make good on his premonition and thus burned through more of his energy early on. While many are focusing on what went wrong for Mcgregor, few are looking at what went right for Diaz.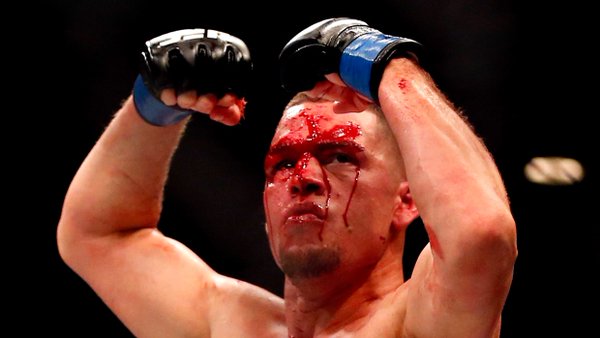 Once again, one could say that Nate is always in great shape even if he isn't training for a fight or triathlon. One could also argue that he is just able to get into excellent condition on short notice. The case could also be made that Nate's durability and chin were extremely influential in allowing him to stay in the fight. One could assert that his strategy in this fight was complimentary to a fighter with a limited training camp. Finally, a combination of all or none of these statements both for Nate and against Conor could be feasible interpretations.
Can any definitive conclusion be drawn regarding the events before and after UFC 196? It depends on which side of the spectrum you reside in. Mcgregor loyalists will contend that Conor made a few miscalculations, which caused him to gas out, certainly not an indictment of his abilities. Supporters of the Stockton native will state that Nate Diaz got off the couch and easily derailed the Irishman's hype train. How convenient, for those of us interested in this discussion, that there are talks of an immediate rematch at UFC 200? Speculation only gets one so far and on July 9th we may just see this debate ended, for better or worse.
Photo credits: http://www.bjpenn.com/wp-content/uploads/2015/06/nate.png
http://www.sportingnews.com/other-news/4697359-video-nate-diaz-silences-conor-mcgregor-at-ufc-196
Feature image: http://www.foxsports.com/ufc/story/dana-white-lorenzo-fertitta-game-for-nate-diaz-vs-robbie-lawler-030716