May 6, 2016
Rebuilding the Skyscraper: UFC Rotterdam
From a heart condition to family tragedy, Stefan Struve is poised to climb his way up the heavyweight ladder.
If you've been keeping up with the Fight Night: Rotterdam hype, then perhaps you've had a chance to watch some of the training videos on the UFC-Tube (great for free fights). If you have then you would certainly notice the how keen the big Dutchman is on winning a heavyweight title. Facing all sorts of adversity, including the death of his father and a heart condition that caused him to faint before a fight at UFC 175, Struve is training harder than ever before.
"I was really ashamed," Struve said on an episode of Ariel Helwani's The MMA Hour . "I didn't really know what happened. I didn't know what to make of it."
The giant from Beverwijk, Netherlands returned six months later only to be on the receiving end of some brutal ground-and-pound courtesy Alistair Overeem. That coupled with his previous match (a TKO at the hands of Mark Hunt), made Struve all too familiar with getting put unconscious.
But it's not like finishes are out of the ordinary for the 28-year-old; prior to 2015 he fought to eight-straight finishes whether he was on the giving or receiving end.  In fact, out of all 34 of his professional fights, only three have gone the distance, two of those being his most recent fights.
Fun Fact: Struve won via DQ from being fish-hooked in 2006 by Murat Bourekba (his only pro fight).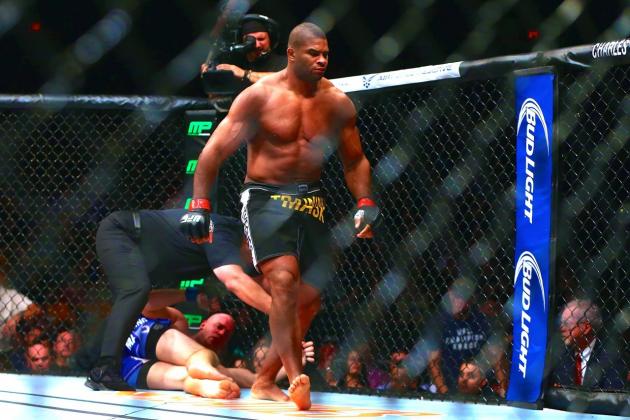 Let's talk about those last two fights; his first decisions in nearly six years, it's no doubt Struve is taking a less-risky approach after getting knocked out twice, probably a good decision.
Rewind to UFC 190 v Antônio Rodrigo Nogueira aka Minotauro where the Skyscraper did his namesake justice by barely scraping out a win vs the veteran Brazilian. Improved kickboxing got him the win, however Minotauro did look like a tired version of himself.
Then, at UFC 193 he dropped to 28-6 via unanimous decision against Jared Rosholt. In what was called a horrible fight and a "lay and pray" victory, Struve seemed rather stale.
Now, here we are another six months later and just hours from Fight Night: Rotterdam Stefan himself knows this may be his last shot to get to the top. In the above training video, we see Struve running sandy hills, spending time with his family and overall taking this fight very, very seriously.
While it is assumed that #12-ranked Bigfoot will always hang around because he is likely to be either KTFO'd or knock some one on their ass, Struve's future isn't as clear. Currently unranked, he needs a finish to get back in the good-book of the UFC (and the fans).
I see this fight going one of three ways:
Struve submits Silva who leaves an arm hanging out there.
Bigfoot knocks out Struve and possibly ends his UFC career.
Both stumble to a sad decision, where no one wins no matter the outcome.
I'm hoping for a Struve victory, but my magic 8-ball tells me to ask again later because Silva may use one of his soup cans to put a sad end to Struve.
However, as a betting man I would say a Dutch victory is a solid -110.
Cheers to you this Sunday, Stefan.
http://bleacherreport.com/articles/2297535-alistair-overeem-vs-stefan-struve-what-we-learned-from-heavyweight-tilt
http://the-void.co.uk/mixed-martial-arts/ufc/ufc-146-post-fight-analysis-review-344/