July 4, 2016
Roy "Big Country" Nelson returns to action July 7th in the co-main event slot at the UFC's Fight Night 90: dos Anjos vs Alvarez.
He is coming off of perhaps his most boring fight to date: a unanimous decision win over the recently cut, Jared "The Big Show" Rosholt. But, Nelson's upcoming fight promises to be nothing like his last. His opponent, Derrick "The Black Beast" Lewis might be the most exciting rising heavyweight, with an absurd 93% of his wins coming by knockout.
For his part, "Big Country" has been a perennial fan favorite and for good reason: only 3 of his 21 wins have come by decision. Before these two knockout artists look to send one another to a head trauma specialist, lets take a look at Roy "Big Country" Nelson's top 5 fights:
5. Cheick Kongo
Number 5 on our list features Cheick Kongo, owner of perhaps the greatest comeback win in UFC heavyweight history – go check out his fight against Pat Barry. While Kongo wasn't and isn't the stiffest of competition his physical gifts and durability were reason enough for him to grace our list. Here is the first of many "Big Country" 1st round knockouts.
(Click images for fight videos, not hosted on SpinningBackFist.ca)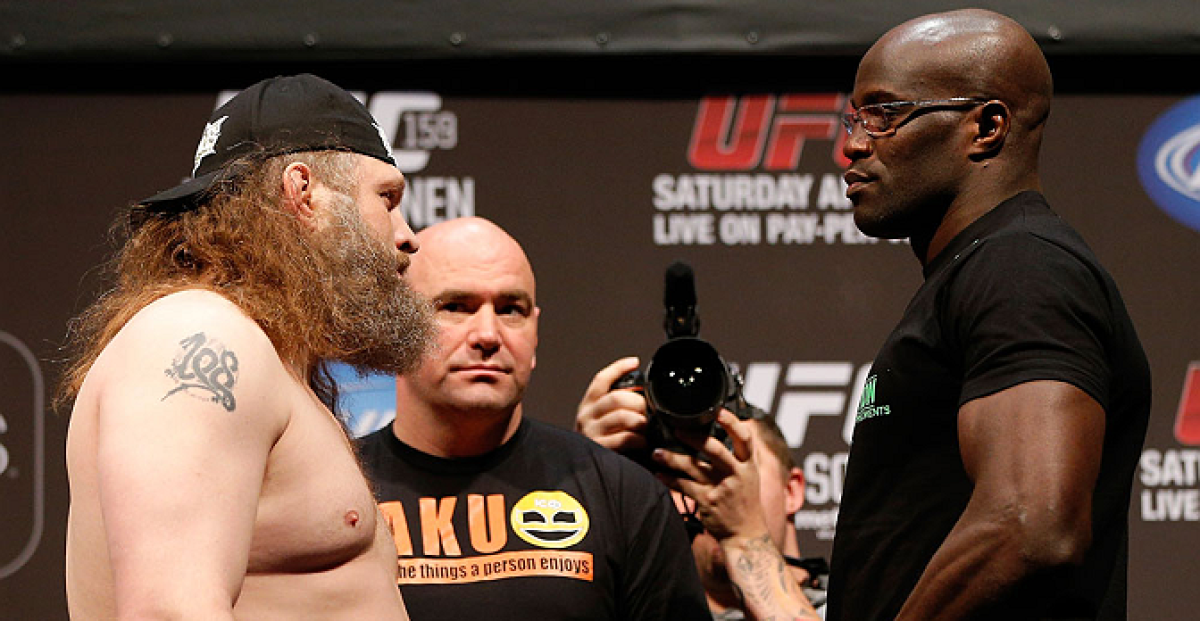 4. Dave Herman
You might remember Dave Herman as the foolish young man who told Antonio Rodrigo Nogueira that jiu-jitsu didn't work. In his 2012 bout against Nelson, Herman joined the populous ranks of those dispatched by "Big Country's" right hand – don't worry Herman, you're in good company.
3. Matt Mitrione
In December of 2012, the man they call "Meathead" attempted to place Nelson on the receiving end of concussive blows. Mitrione at present owns an impressive 90% knockout rate and his excellent footwork and unorthodox striking made him a serious challenge. Instead of his patented overhand right, Nelson was able to put him away with a beautiful uppercut followed by absolutely vicious ground and pound.
2. Stefan Struve
Going into their 2010 bout, Stefan Struve was riding a 3-fight win streak. The "Skyscraper" presented a difficult puzzle because of his physical stature (6'11. 5), legit Dutch-Kickboxing, and submission prowess. If the past few fights on our list are any indication an overhand right in the first round is in order.
1. Antonio Rodrigo Nogueira
Anyone trying to sum up the legendary "Minotauro" Nogueira in just a few sentences is destined to fail. The recently retired Brazilian was a submission master and longtime Pride and UFC veteran. There really is no need to go on about "Big Nog" after all, this isn't his top 5. All his accolades and talents ended up being inconsequential on the night April 11, 2014 when he met the one true "KFC King". Can you even begin to guess how "Big Country" got it done this time?