August 12, 2016
Who Should Nick Diaz Fight?
Nick Diaz was suspended five years for marijuana, for some reason.
Thankfully, while it is still ridiculous, Diaz had his suspension lessened to 18 months. Now, he is a free man and is looking awfully tasty to fight promoters and managers everywhere.
I could go on ad nauseam of why suspending some one for that is insane, but I digress.
We've heard Nick & Nate say they would never fight on the same card; in short because they want to be able to focus on one fight and not have their team fragmented.
However, we've also heard Nick say that he would fight on UFC 202, but for a price.
"If they make me an offer I can't refuse." – Nick Diaz on potential of fighting at UFC 202.
Possible Opponents
So who, I say who should Diaz fight? If you didn't know or thought the 33-year-old only has the four fights in the UFC you've seen him in the last five years, you're wrong. Before his three-round beating of BJ Penn in 2011, Nick was the poster boy for Strikeforce, going 6-0 with four Welterweight Championship victories. His last, a first-round shellacking of Paul Daley.
We must go back to September 2003 to find his UFC debut, a submission victory over Jeremy Jackson at UFC 44. He also bested UFC great Robbie Lawler via KO in '04. Heck, Diaz even beat Takanori Gomi with the rare gogoplata at Pride 33, but don't it was a no-contest because of that pesky green plant.
All in all, Diaz is actually 7-6-(1) in the UFC. Having fought greats like Anderson, Condit and GSP we must ask who is appropriate to fight or rather, most realistic?
GSP
Certainly, we would like to see a rematch of their five-round battle for the welterweight belt at UFC 158. St. Pierre (now 35) has been out of the fight game for nearly two years following his win over Johny Hendricks.
He hasn't stopped training fully, but we all know ring rust is real, did you see Jon Jones vs OSP? Georges says he isn't scared of Nick, so the only question remains is: does GSP still dominate Nick after all this time? The Frenchman would have to put his amazing 25-2 record (12 win streak) on the line.
Predicted Outcome: GSP wins via unanimous decision.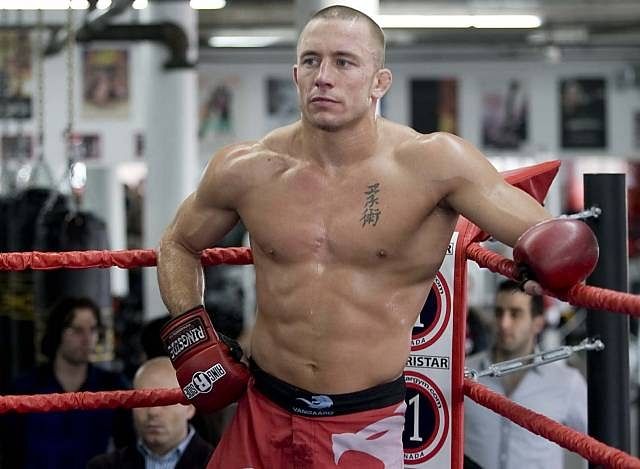 Tyron Woodley
As I write this I'm learning that Woodley will fight Wonderboy but that doesn't necessarily rule him out for Diaz. Imagine Woodley KOs Thompson and is virtually unscathed again, he could be ready soon after that to fight Nick, that is, if he hasn't already fought.
This raises another question though:
Does Nick Diaz deserve to be an immediate contender?
If we're talking welterweight, then we are talking about possibly the most competitive weight class right now (featherweight and women's bantamweight also come to mind), with Condit, Maia and now Thompson now champing at the bit for a title shot.
Currently, I would rank him around sixth or eighth in the division.
Predicted Outcome: Diaz by split decision.
Johny Hendricks
'Big Rig' has really had his ups and downs since his lost to St. Pierre. He won and lost the welterweight belt to Robbie Lawler, beat Matt Brown and got wheel kicked by Stephen Thompson. He even had a lot of doubt about returning after missing weight and losing at UFC 200.
Although I think Nick would tag him from the outside with a significant reach advantage, this could be a perfect fight for both of them. Hendricks would get a big money fight that would either be a good pay-out before possible retirement or he could send himself towards the top five in the division with a big W.
Diaz however, would get his money fight as well as cement himself as being on the cusp of contender-ship with a win.
Predicted Outcome: Diaz wins via 2nd Round TKO
Anderson Silva/Vitor Belfort
I know, I know but hear me out. It's probably easier for Diaz to fight at middleweight for a few reasons. Less weight cutting is the most obvious answer. However, as of now the division is ripe with old talent who likely are looking for a shot and big money.
I don't think any potential Nick Diaz fights should be a main event, but imagine a co-main between him and one of these two. Really, I could see an exciting fight happening between anyone ranked four to nine. If Diaz won, I'd put him easily in the top 10.
Of course Silva has the rematch factor, whereas Belfort has the 'punch each other's face' factor. I listed both because I hope at least one of the two can stay off steroids to avoid another No Contest.
Really though, who wouldn't love to see Diaz fight Belfort, Silva, Yoel Romero or even mock Uriah Hall as he throws 100 stupid, flailing kicks?
Predicted Outcome: Diaz KOs any of these names due to a superior chin and speed.
No matter who it is, I'd like to see Diaz fight sooner rather than later. There may not be enough time before UFC 203 in Cleveland, but UFC 204 in Manchester, England on Oct. 8th seems like the perfect amount of time see some trademark Diaz trash talk, but this time from Nick for a whole new generation.